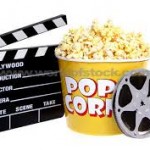 Private Group
active 3 weeks, 2 days ago
We meet the SECOND TUESDAY of the month (all year long!) about 11ish, depending on when the movie selected starts. We have lunch somewhere close to the selected theater either before or after the movie (depending of course what times the movies are scheduled) to review the flick. We will go to which ever theater has the best movie based on the vote of those attending.. Members are welcome to join us for just lunch, just the movie or both! PLEASE RSVP on the Newcomers Website.
Be sure to get your Rewards cards for both Carmike and Regal Theaters and register them, you'll earn free tickets and popcorn!
This is a private group. To join you must be a registered site member and request group membership.